Virtual Web Developer is the new buzz around the world. Outsource 24-7 offers dedicated expert virtual web developer services at an affordable price. It may be…
• WordPress development
• Joomla development
• Magento development
• Channel Advisor development
• PHP/MySQL programming
• Web design
• Maintenance of an existing website
…we can do all!
With a skilled team of web developers, Outsource 24-7 offers the expertise, knowledge and creativity you need to get your business on top of the competition.
Our approach is unique. You will not only work with a single web developer who is only experienced in one technology. Rather, you will have our entire team of experts at your disposal, with expertise in various CMS's e-commerce platforms, and programming environments. We are the only company to offer this powerful level of flexibility at such an affordable rate!
You will receive a daily work update via email keeping you abreast of your projects' statuses. Additionally, the Project Manager will be always available during business hours (EST 7 AM to 7 PM) via skype, chat, and phone.
See Below How Virtual Web Developer Can Save Your Thousands of Dollars: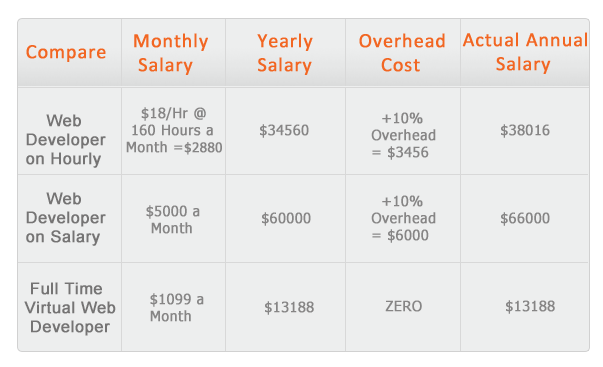 Note:
1. We can accommodate your time zone when needed, but normally virtual web developers work during local Bangladesh time
2. You can assign tasks daily, weekly or whatever is flexible for you
3. Your project manager will be always available during business hours (EST 8 AM to 7 PM) via chat, skype, phone
4. Activities will be monitored by US management team
5. You'll get a detailed report of task progress every day
What Can A Virtual Web Developer Do For You?
Virtual Web Developer Rates & Hours
At Outsource 24-7 we understand that it is important for our clients to save money while maintaining productivity. We offer an affordable rate and three monthly options to choose from. There convenient slots of bulk time can help you scale your operations and save money.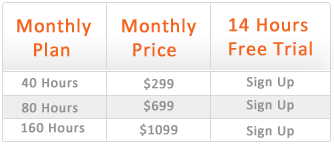 How it works
Get in touch(Phone, email, chat) —> Collaborate(with Project Manager) —> Assign Task (To your virtual web developer) —> Report (Get detailed report at the end of the task )

Benefit of hiring a Virtual Developer from Outsource 24-7
• Pay For Time on Task
• No Need to Buy Additional Computer, Equipment or Office Supplies
• Cut Off Your Payroll Expenses
• Better Flexibility, Greater Productivity
• No medical, dental, and vision care benefits to pay
• No vacation, sick, and holiday time to pay
• Save Money & Gain Time
• 24/7 customer care support
• Getting a team support despite paying for a guy
Outsource 24-7 Assurance
• Dedicated person is working just for you
• A favorable development environment
• High bandwidth internet connection
• Guaranteed timely communication
• Easy coding style
• Strict delivery time
• All the rights of the source code will be owned by you