Did you know?
• Daily 48 million people in US search internet for information or to buy something
Why do you need a website?
Have you ever wondered? what if your potential customers search your business online. What do they find? Nothing, or worse yet, your competition. These are people who are expecting to find your business online. They are looking for what you are selling. For many people, you might as well not exist if you can't be found in search engine. The website can help your target market to get information on what you sell and may order things online.
It's highly important to create a well designed and well coded website to knock your competition down. With a skilled team of web developers, Outsource 24-7 offers the expertise, knowledge and creativity you need to get your business on top of the competition. Our aim is simple to stand out with all of your competitors and give users the best experience possible. When a potential customer enters the supermarket, your competitors work hard to get them. However, you have no competitors once they reach your website. Thus there are high chances of a better conversion ratio, more sales and more profits.
On-page SEO Optimization
Majority web development companies don't optimize On-page SEO properly, they take shortcuts, and we're sure you don't notice it (usually nobody does). As result you won't get expected traffic if it would have been properly optimized. We ensure the extra time required to optimize it so it can be found by the search engines.
On-page SEO optimization includes:
• Meta tag and title tag optimization
• Sitemap creation
• Keyword search
• W3C validation
• Robots.txt optimization
• etc.
Budget & Content
When we develop a website for client we do consider budget, industry, on-page SEO optimization, audience, location etc. We work with the budget that you have. Normally we finish a website within 3-4 weeks depending on how quickly you can provide us content. We offer five different packages to choose from. See our packages below.
Static Website Package Features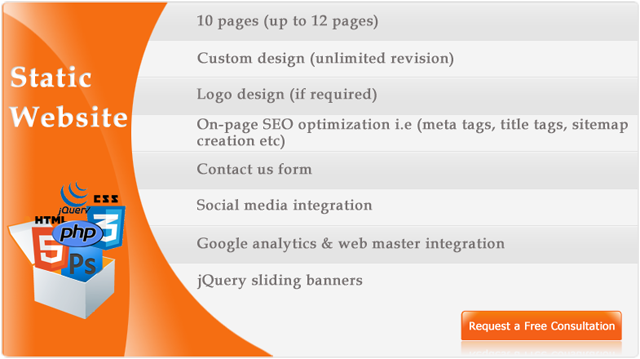 Starter Website Package Features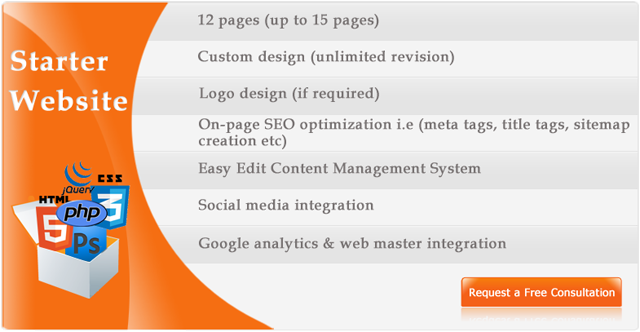 Business Website Package Features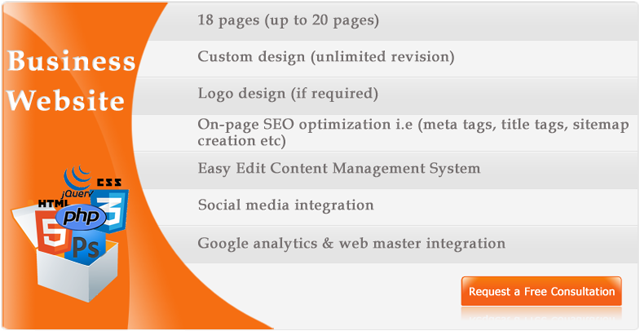 Professional Website Package Features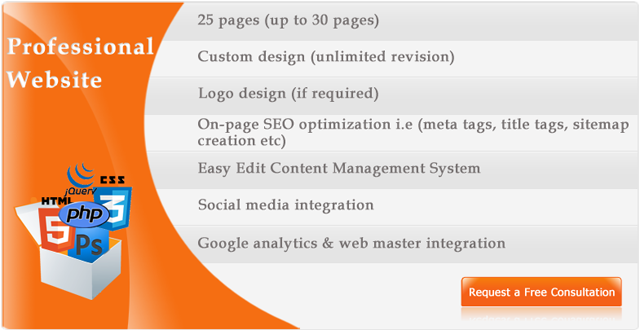 eCommerce Website Package Features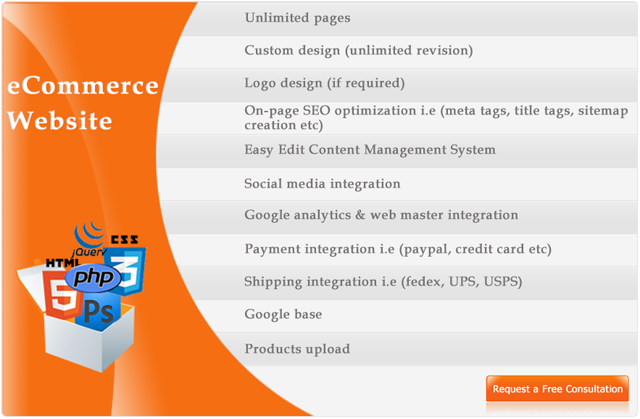 Technology we use
XHTML, HTML, DHTML, HTML5, PHP/PHP5, JAVASCRIPT, PHOTOSHOP, ILLUSTRATOR, DREAMWEAVER, CSS, CSS3, SQL Server 2005/2008, MySQL, Oracle, MS Access.