What is Search Engine Optimization?
SEO refers to the process of using on and off page factors to get your web pages ranked for your chosen keywords in order to get more search engine traffic to your sites, SEO is an inexpensive way to help your web site get more page views too. In theory we're interested in all search engines. In practice SEO = Google.
SEO is an ongoing process. It begins with hard work and continues on. We apply this principle to all the projects and work really hard to bring you the best result. Due to our hard work, we can show and guarantee results within a very short time without using any spam method. As you have come to our website looking for this service, we believe you are in need of this service and we will dedicate our best efforts to bring you the results.
What is On-page SEO?
On-page SEO refers to the things you do on your own site to enhance its ranking in the search engines. This includes:
• Meta tag and title tag optimization
• Sitemap creation
• Keyword search
• W3C validation
• Robots.txt optimization
• etc.
What is Off-page SEO?
Off page SEO refers to those things you do outside of your own web pages to enhance their rankings in the search engines. This includes:
• Article marketing
• Blog submissions
• Directory & Press Release submissions
• Social media marketing (SMM)
• Link building
• etc.
Is Search Engine Optimization Important?
Any websites success depends on how you define SEO. A website without visitors is like a market without customers. To achieve the desired visitors on your website, proper integration of SEO is must.
How quickly will I see results?
If you target long tail keywords you can see results pretty quickly but always remember SEO is a long term strategy not a set and forget thing. If you're after more competitive keywords prepare to commit to it for at least three months of consistent effort.
How do we do it?
• Create content around specific keywords
• Access to offsite optimization resources
• Proper use of robots.txt file
• Using your keywords in other parts of your site, such as the title of the page, the file name, etc.
• Automatic generation of the sitemap for better search engine indexing
• Automatic XML sitemap generation for direct search engine indexing and automatic submission
• Google Webmaster Tools integration (API)
• Proper use of tags: H1, H2,…, H6
• W3C validated HTML
• Div-based code structure
• The use of "alt" attributes for images
• Applying constant optimization, taking into account the latest search engine algorithm changes
• Off-page optimization
• Link building
Our affordable SEO packages for any type businesses; small, medium or large.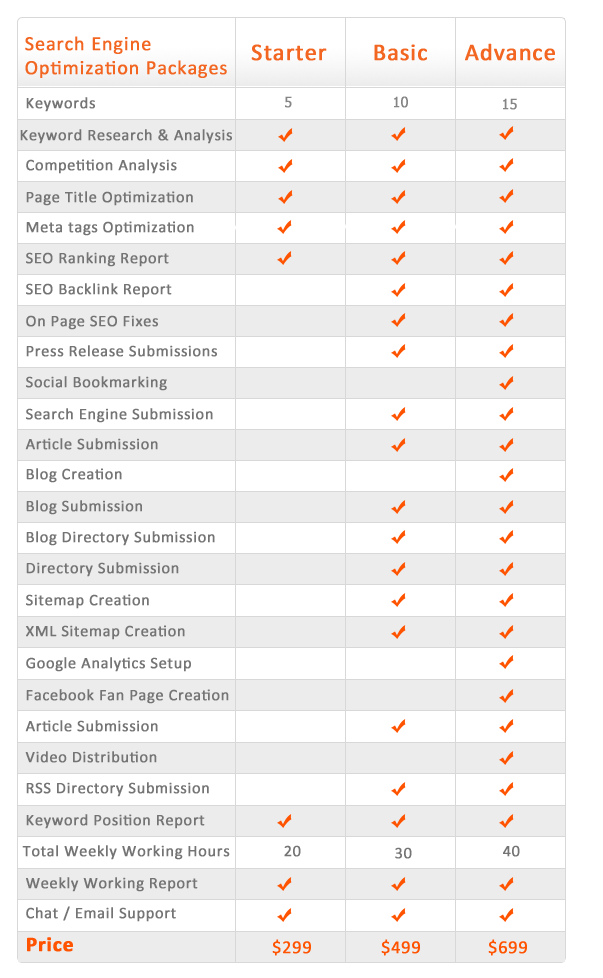 We are looking forward to a long and fruitful business relationship with your company. Please let us know if you have any further questions, We would love to answer!